About the larimar blue miracle of nature
Larimar "The New Age Stone"
Recently, we all meet this sky blue, like a sea foam, a stone of birth, but what do we really know about it? Until recently, almost nothing, so I decided to share the acquired knowledge
Larimaru cabochon in AAA + quality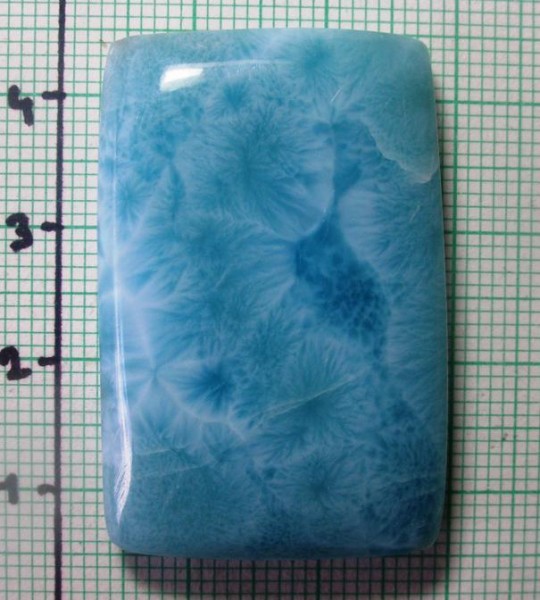 FINAL
Larimar is a single place in the world - a mere mile of the Dominican Republic. This makes Larimar one of the most precious stones in the world. It is 20 times rarer than, for example, Tanzanite! Nowhere else in the world did the same "geological" conditions for this stone originate. (or we don't know about them yet)
WHAT IS LARIMAR ZAČ
Technically, Larimar is a pectolite, pectolites are very common stones, but the only one has this beautiful blue color. Other pectolites are white or gray. To this day, it is not known how its special blue color ever came into existence.
Larimary has a variable appearance - (varying in quality) from whitish blue, blue-green to the most beautiful bright blue sky. Each piece is different, two identical larimars do not exist. Their drawing resembles sea foam or sky. I personally have frozen windows.
Larimar (or his deposit) was discovered by geologist Miguel Mendez in 1974. This master gave Larimar his nice name - LARI - after his daughter Larissa, and MAR (like sea-Spanish)
Otherwise, larimar is also called the Atlantis Stone.
HOW TO LEAVE
As far as Larimar mining is concerned, it is extremely problematic, not only that the bearing is unpleasantly poorly accessible, but also lies in the area of frequent hurricanes, and so there is no exception when mining is also 5 months a year. They are mined only by hand, with hand tools, where miners watch a small vein and cut out their pieces. (nice as in the Middle Ages) no use of explosives is possible. This makes mining expensive and production is not great. The best bits are 300-400 meters below the ground, which will take some time before the guy in question gets there. And when it finally gets through, the hurricane comes, floats the mines, and nothing can be done for 6 months. Then it is found that the chips are destroyed irrevocably. This all contributes to the lower availability and high cost of this unique stone. Extracted stones with immediately cut into thicker sheets, and graded according to quality. Black business, and black mining, of course, also blooms, not that.
This is how the larimars are sold
Larimar- crude AAA to AAA +
Larimar raw "close to AAA quality
Only 10% of Larimar's extracted is of jewelry quality. And only 3% are in AAA quality. Bearing extraction is expected within 8-10 years (Larimar's price is likely to increase astronomically).
How AAA looks good in practice
How is "larimar quality" actually evaluated
The most important role is played by color and drawing the more distinctive and interesting the drawing and blue, the better. Possible translucency is also a plus, and of course, the classic absence of defects (such as a piece of rock, a dead spot in the drawing, etc.) plays a role.
Best - really blue !!!! larimary are labeled as AAA or even AAA + and their price is really high (and of course little).
The whitish "pale pieces" are elsewhere. (Not that they were downright cheap and they weren't very nice, too… but the super modra just isn't).
Quality of "Close AAA Quality"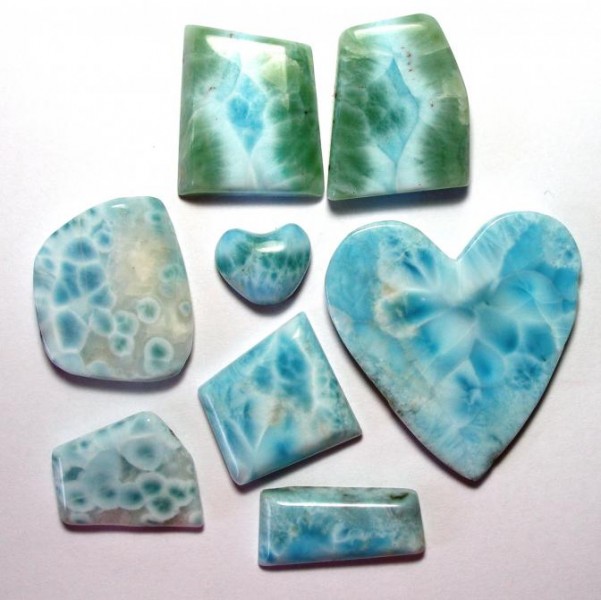 style = "width: 350px; height: 349px;" title = "do_blogu_o_larimaru__7__0" />
Why is the price of Larimar, and the larimar jewelry on the Internet so volatile?
It is not difficult to answer
Decisive is the quality and weight of the stone, the type of cut, the quality of the goldsmith's work if the stone is set, and the fineness of the metal in which the stone is set.
The most advantageous for buying jewelry are thinner plates with beautiful drawing. For chubby cabochons the weight increases with their height and thus the price. The stones we have and will have are usually just these plates to make the beauty stand out and the price of this wonderful gem is more affordable. We chose only AAA raw material and AAA quality. Pale and cheaper larimars are classically plated, and are also available.
* What are new age stones
New age stones are stones that are not necessarily new, but have been discovered recently. These stones are different from other places of origin, size and quality. They are usually rare, found only in one location and are therefore more expensive than others. Many of them mention strong, special healing effects associated with spirituality and personal development. Some of them are not interesting in their appearance, but they are amazingly strong and even less sensitive individuals feel their strength even to the end. They are excellent for meditation, spiritual development and the opening of the third eye.
Selection of some new age crystals: larimar, nebula, charmite, sugilit, tanzanite, danburite, apatite, moldavite and others.