Turquoise right or false? (Turquoise and Turquoise Imitation)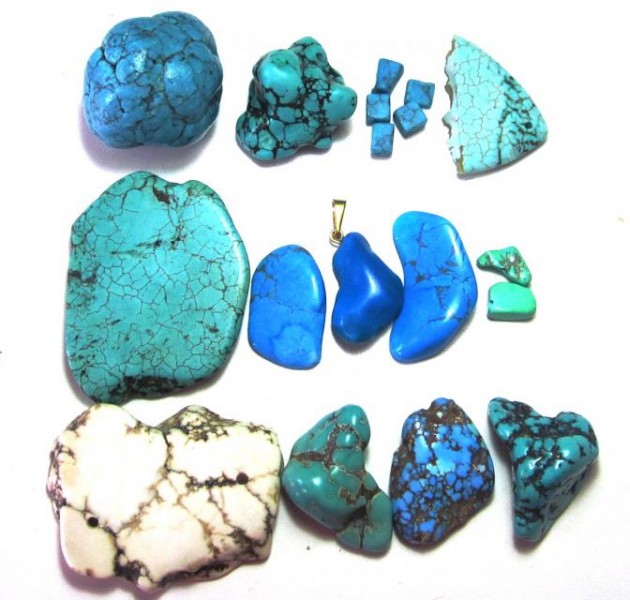 Did you know that turquoise is the most precious stone in the world?
At the request of our stony fans and customers, we have created this photo blog for better orientation in turquoise issues. It took some time for our collection of turquoise imitations to be created, we are still expanding it, (and we certainly don't have all the types), but we certainly have the most common ones that appear on our market. Turquoise imitations, whatever their nature, are now sold together under the name Tyrkenit. (So if it is decent or knowledgeable traders, someone just doesn't want to lie deliberately, but doesn't know what to sell).
This blog does not aim for any geological or mineralogical expertise, but perhaps it will help you a bit with the naked eye (and robber) if you have any doubts about the material sold under the name Turquoise.
The right turquoise is most easily tested by breaking, but it is a rather expensive test, especially if you have only one piece
Now let's look at the picture above.
Imitation is completely artificial in the upper row. You know the worst, completely plastic, by looking and feeling at least. And they're pretty ugly. On the right is a broken pendant whose cross-section will be examined below. Second, colored minerals - howlit and magnesite. (Well, at least it's a stone…) and in the third row there is a non-colored howlit that is very handsome in itself and three RIGHT turquoise)
Colored Magnesites and Howlites - a closer look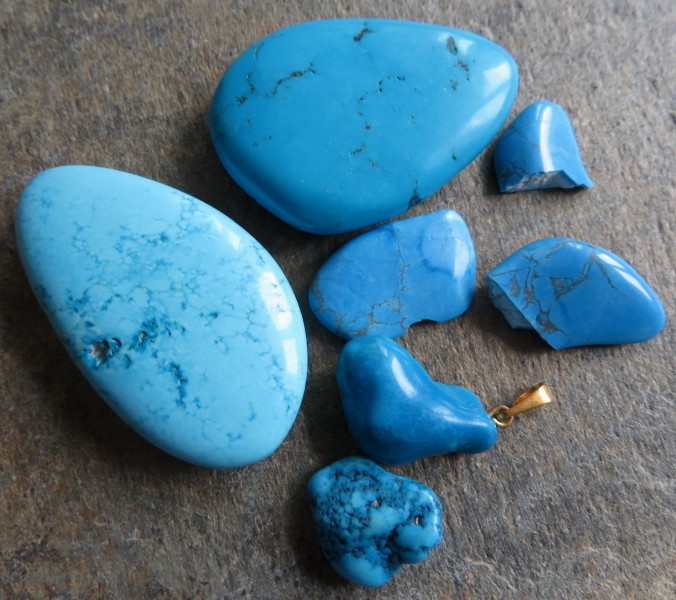 And now let's go turquoise and tyrkenitů in a fur coat ...
THESE ARE RIGHT (Arizona - Up and Kazakhstan (Loc. Majkojin) - Down) Notice "Coarse Gaps"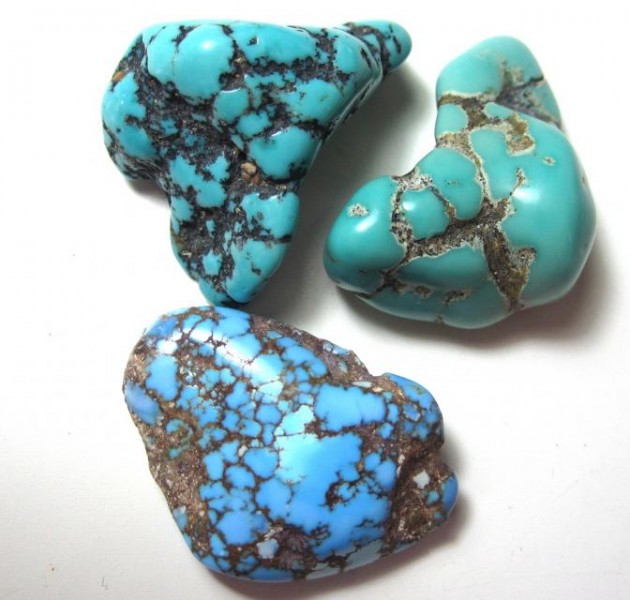 The most common true turquoise on the market today is from the US and China. Right turquoise from Kazakhstan, Iran, or Armenia are extremely rare today, their color is bright turquoise, almost impossible to believe. (You won't meet with them much, and the astronomical price for a pidi cabochon will tell you, but at least a few pictures and information to imagine)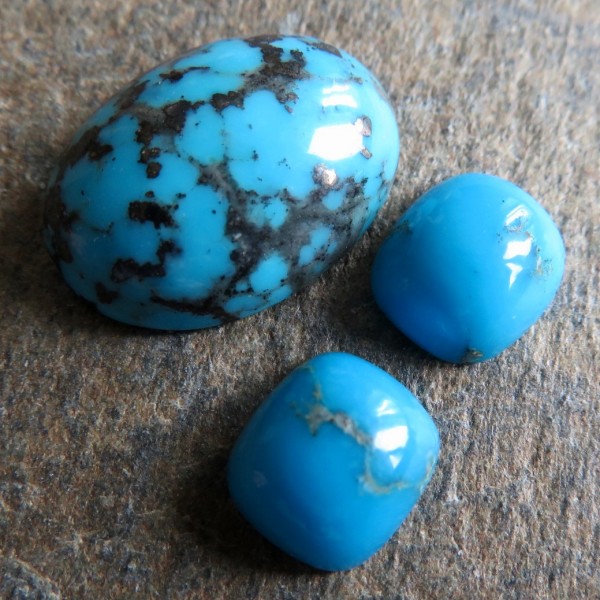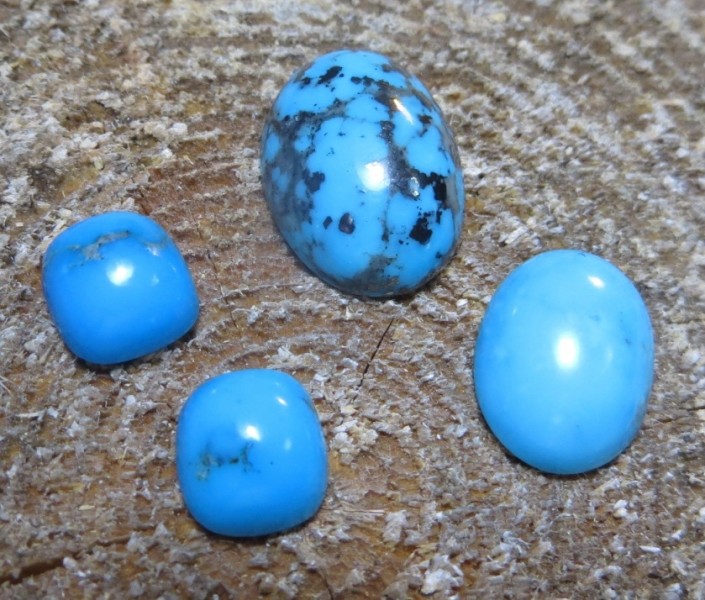 Iranian (Persian) turquoise from Nishapur (Nishapur) locality are very rare today, mostly older findings, but very limited extraction is taking place today. Iran has been enjoying turquoise for 5000 years. In the areas of Iran, Afghanistan and Pakistan, turquoise is considered to be lucky. Above all, they are worn by men embedded in massive gold rings that look like fairy tales for their great color, but they are not! The color of the highest quality is considered a pattern of colors used for imitation dyeing. They are divided into three qualities: Angushtari - rich color with maximum small pieces of pyrite, Barkhaneh - quality color, but with a higher proportion of pyrite grains and veins; and Arabs - lighter blue and green with white spots (typical of Persian turquoise).
You can also recognize genuine (unstabilized) turquoise by coloring their white or light blue portions into green after prolonged wear on the skin. It is a natural stone reaction with human sweat. If someone prefers the original azure color of turquoise, it is good to stabilize the stone, or to wear it embedded in a metal bed so that the stone does not come into direct contact with the skin. (most US turquoise is stabilized - resin impregnated)
But back to what you meet more often!
On the picture below is LEFT artificial (very good piece from China), and on the right original turquoise from Arizona.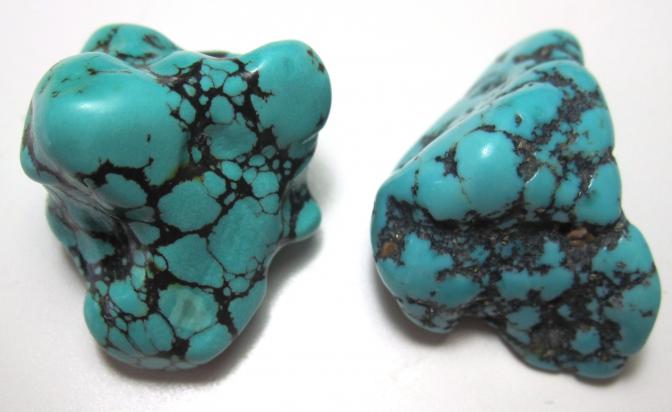 and let's get closer ....
On the detail of the school-technical art, you can see, as with the right turquoise, a non-uniform color, but what is well visible is the "sintering of those black veins" They are smooth! unlike genuine tumbled turquoise. And the blue color is like a speckled… (under magnifying glass) This imitation is also seemingly expensive, ranging from 3,500 to 5,000, - per kilo in wholesale, so it is much more expensive than other alleged turquoise - usually colored by howlity andmagnesites (so-called tyrkenites) and people are more likely to succumb to the illusion that it is a real stone… But the true turquoise costs much more about 35 000-120 000, - CZK per kilo, according to quality, location and color. That in itself could give you a little suggestion when buying, but we won't bet on the price.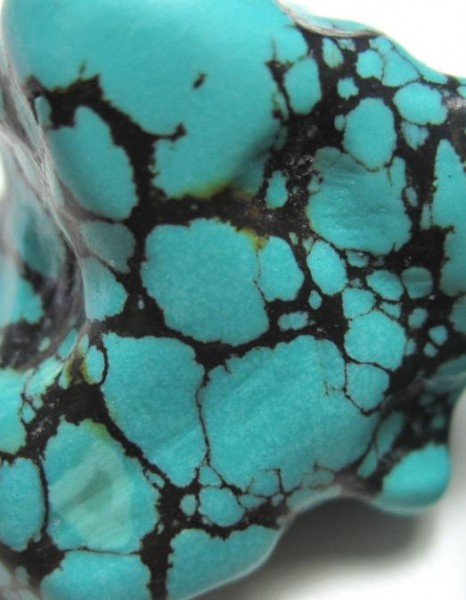 This type of imitation is probably a glass ceramic and has a variable color. Different shades are produced for perfect illusion !!! Watch it out. The box of stones of perfectly uniform color would simply be unreliable. This type of imitation was popular in 2010, and was commonly sold as Turquoise. Today, most traders are decent and sells them under the name Tyrkenit. Comrades in China, they have a really good eye and handy hands, but when you look, you can easily recognize this imitation. But beware of the upgraded version on the market, and this imitation successfully replaces. (see below)
Ad beads ... very popular type of imitation (working title I gave her "blue brain") not that it was an ugly bead .. it is not, but turquoise is not. At the heart of it is good :-D as you can see.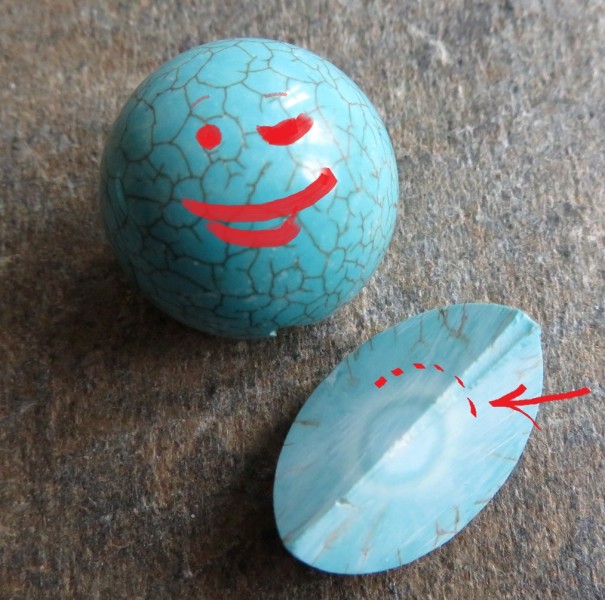 Pendants from "cerebral" tyrkenite in various variations.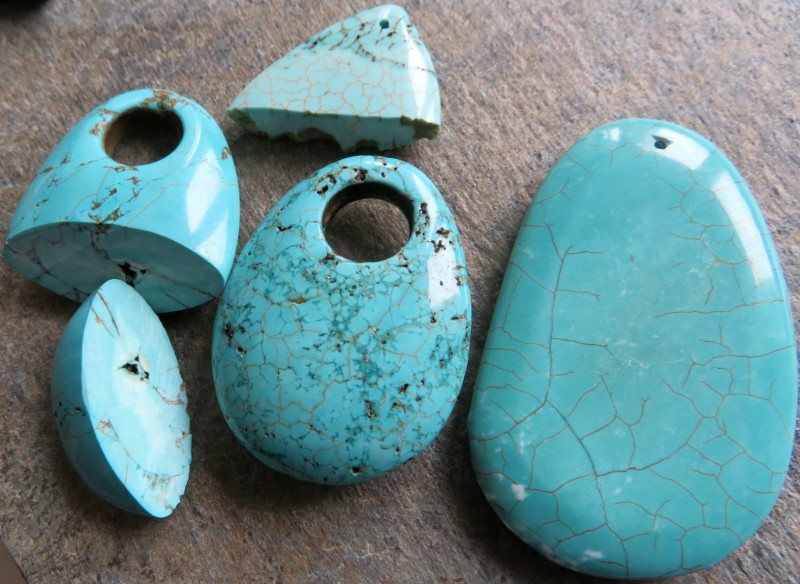 Cut Pendant - You see that the core is light blue, encased in a "cracked layer, a little darker shade, that is worse, I admit, but in reality you would see it pretty well. or it is shiny straight out of the form, hard to say, so the "smooth brains" resembling a cracked desert arise.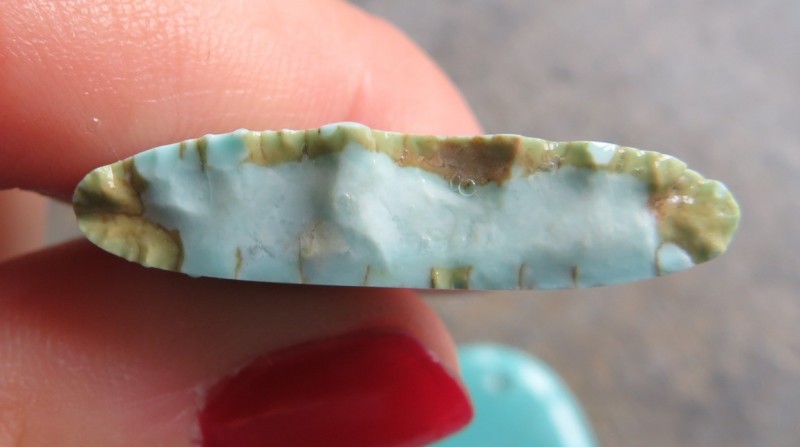 Below is the right turquoise - the veins of the rock are close up completely different, right? In contrast, turquoise areas are solid, not composed of dots. If you have them in hand, you will also feel the difference. Artificial turquoise (better quality) is more glassy.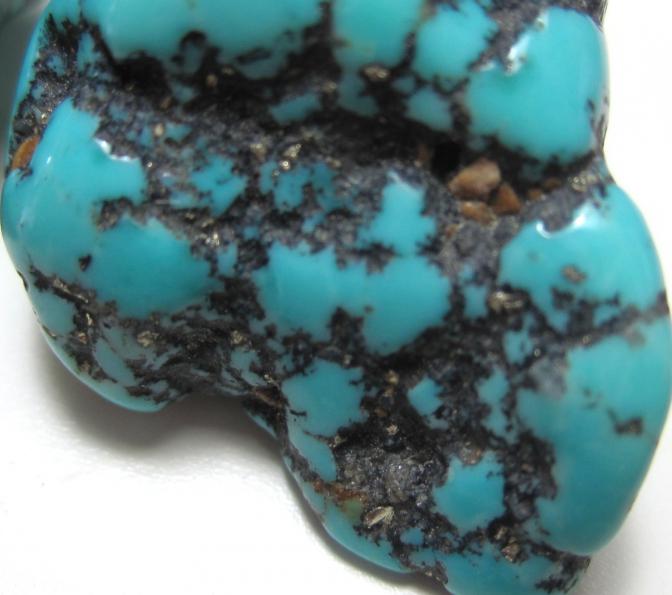 Next - True Arizona (Lighter Version)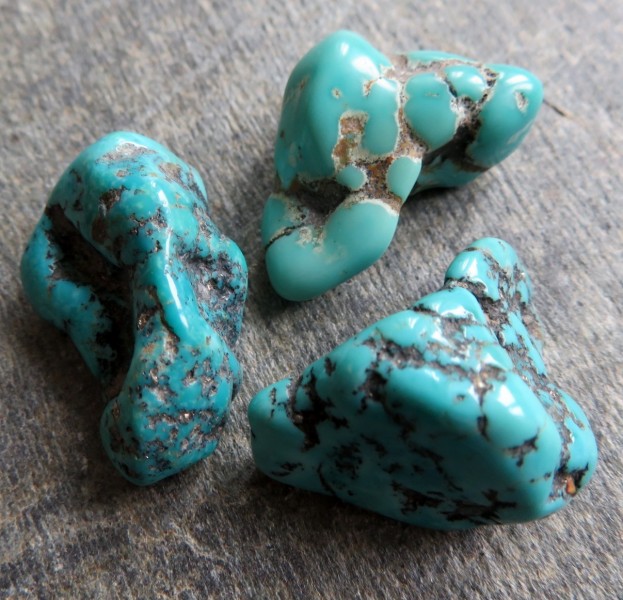 Artworks and barvenines in more detail + white howlit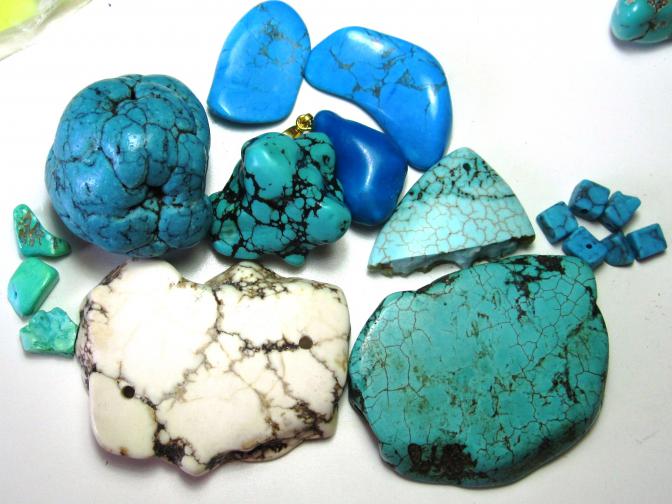 Neon blue surface hides a snow-white surprise (colored magnesite)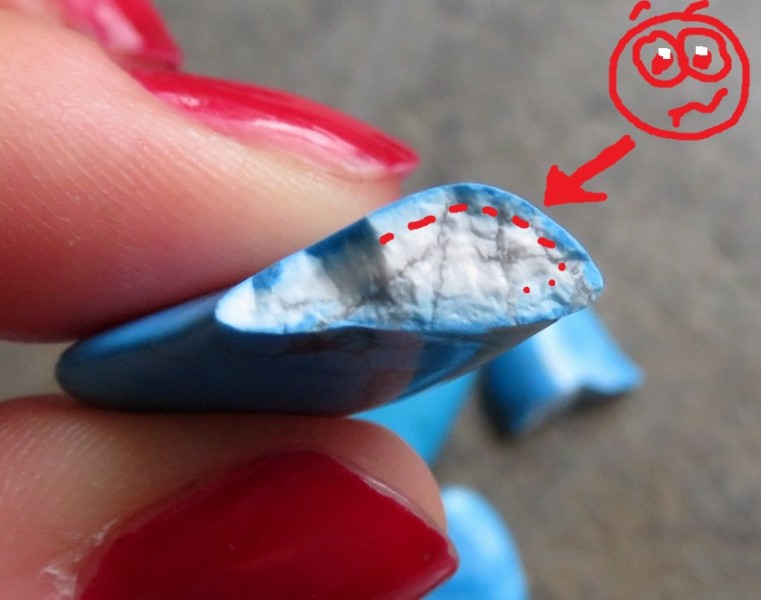 In 2011, so-called 70% turquoise, nicely colored with black matrix appeared, it costs a total of about 3500 - 4000, - per kg. Under the microwaves and X-rays, we found out that they were turquoise, but 40% of the stone mass was organic. These are reconstructed turquoise under the brand name (ASBL)
When you throw such a turquoise into acetone, the blue color leaches out of it in a few hours, and then the black binder and the glue with which the turquoise is compressed start to dissolve. In a few days, the pulp from white cheap turquoise is only in acetone.
It's probably made like this: you take a white turquoise powder, color it, you can make more shades. Then, from the dyed turquoise mixed with the glue, you compress various pieces of turquoise, which, after hardening, are mixed into a black resin, possibly mixed with some ground black stone. And then it somehow cuts, stuns ... and it's like living ..
In this way, these "real" turquoise look after acetalization for three days. Acetone turned blue, and the stones gradually began to crumble, losing their shine and color.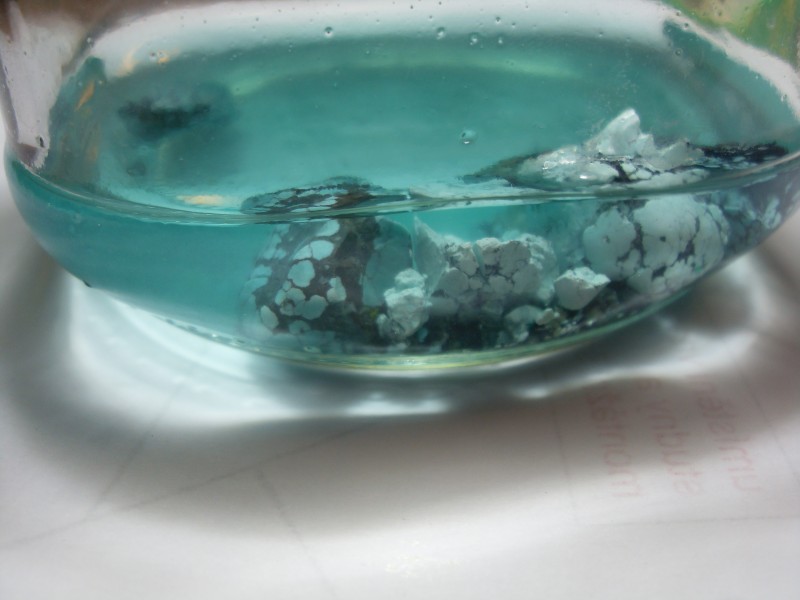 In 2012, the most successful artificial turquoise made of ceramics has been found mainly in Chinese cords and jewelery and today they make up most of the imitations on the market, they gradually replace imitations appearing in 2011. They are more familiar, sometimes very perfect and solid, and he no longer has any dots, this imitation is heavier than ordinary turquoise, feeling cooler and a little bit ringing, but this information doesn't help much when you don't mess with real turquoise every day :-) and you don't have it in your hand. So how to put her on her? At the quarry, this imitation is similar to broken porcelain; plate, just blue color. The core turned out to be lighter. Another help can be the surface as if stained by color and of course available price for a cord or bracelet 1-2 cm pebbles .. (eg 100-200 CZK per bracelet or string)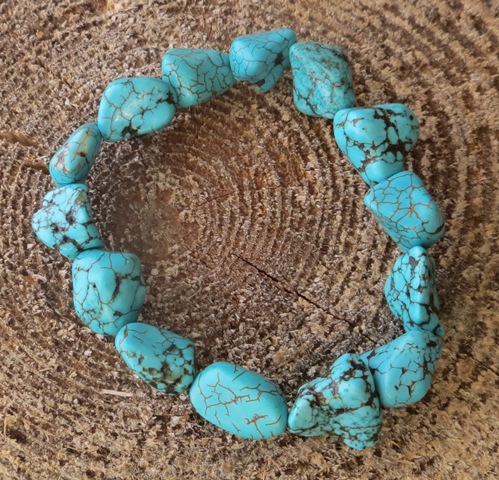 Occasionally some traders offer true turquoise genuine chrysocolla. It's a completely different mineral, beautiful in itself, but it's not turquoise. Luckily, less and less is happening with time, but it can happen ... so I mention it purely for order. The chrysocollae are also very popular in themselves, and most of them come from Peru, but we have also sharpened the beautiful chrysocolla from the USA. And wonder, there are also chrysanthemum imitations, sometimes better sometimes even comic ... judge for yourself.
Natural chrysocolla from Peru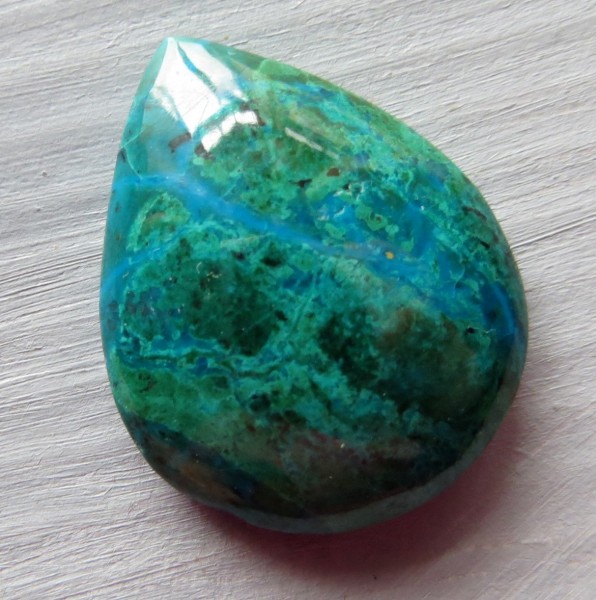 Better and worse chrysocolla ;version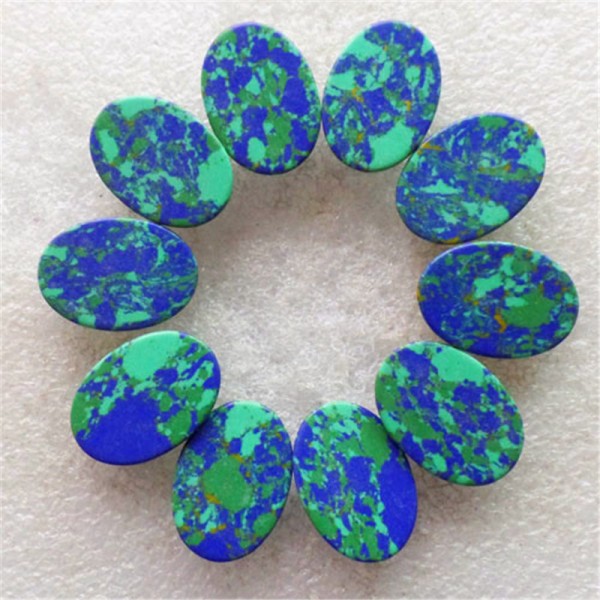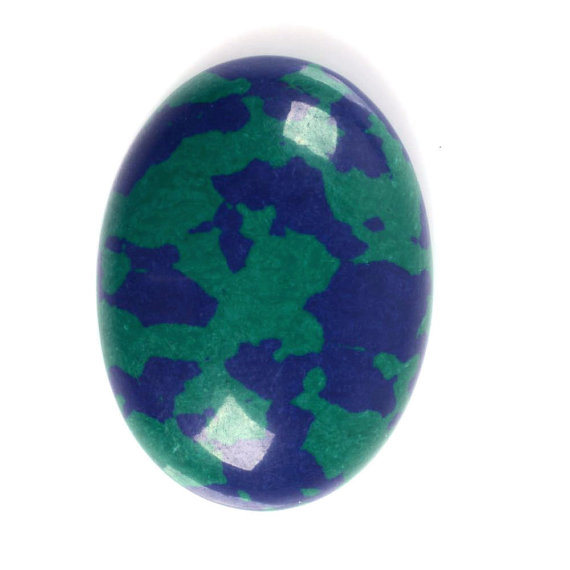 Turquoise we have on offer and we drive to stock exchanges are real, and because we cut them ourselves, we know for sure. So you don't have to worry about us.
Turquoise from the US and marking their modifications
Today's best and most popular turquoise from the USA comes from Arizona from the Globe mine and is called Sleeping Beauty Turquoise (Turquoise Sleeping Beauty, aka Sleeping Beauty). It's the most popular turquoise color of the present. This turquoise is named after the mountain where it is mined because this mountain resembles a sleeping woman lying on her back with her hands on her chest. These stones can also be stabilized (S), but never colored. their color is brilliantly rather sky blue, and less turquoise than other species. Unfortunately, in the mine for three years, these turquoise do not separate from copper ore, and so their price is rising. Sleeping Beauty Turquoise from our offer is completely natural, without stabilization.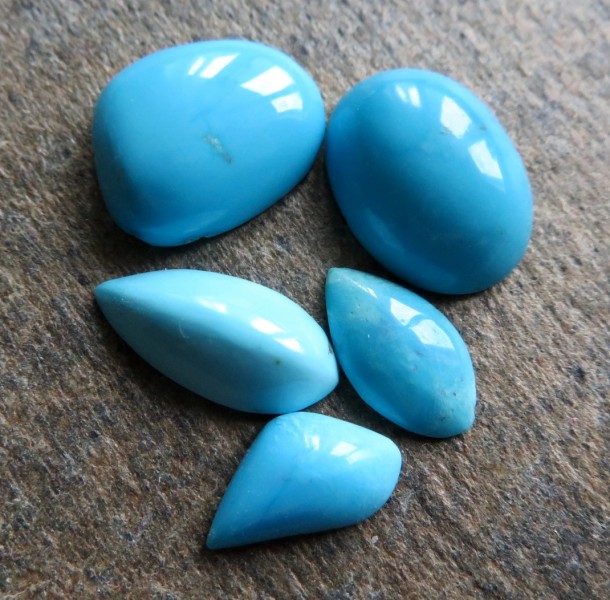 In the US, the turquoise from Arizona from Kingman is popular with a golden or black matrix, mostly stabilized. Although this mine has been closed for a long time, the stone stores are still being sold. Here and there we can buy the raw material, the Kingmans are really beautiful. He seems to have won his fans even in the Czech Republic.
The so-called Golden Kingman (probable artwork - brain imitation) - compare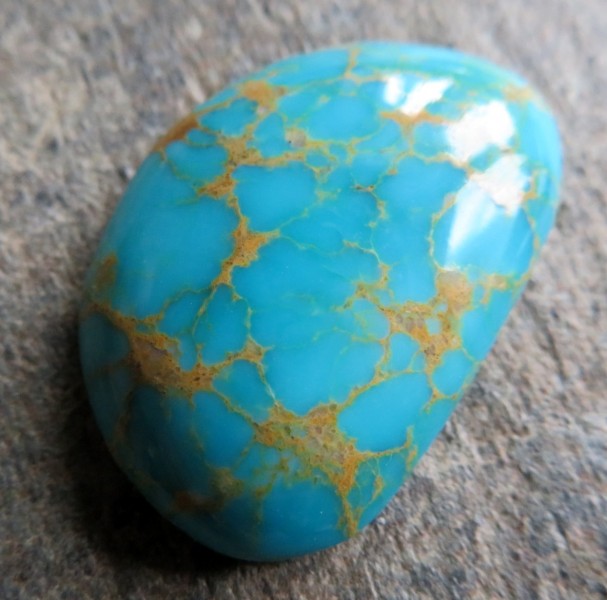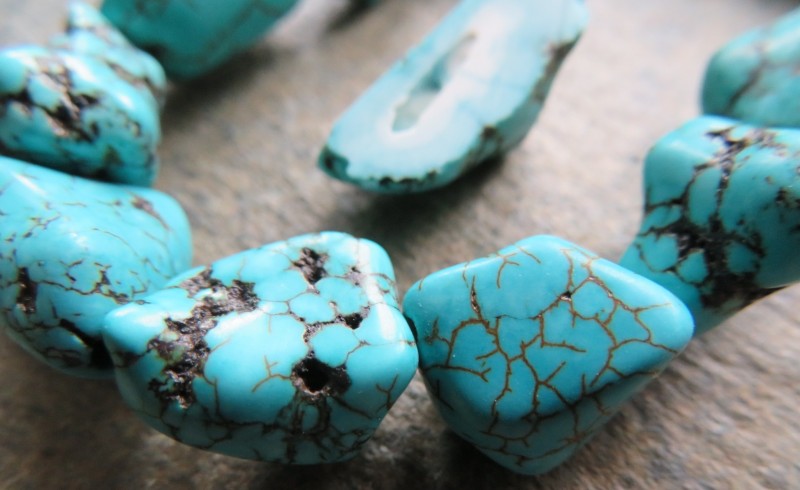 Stabilized Kingmany of various types. Kingmany has beautiful shades of blue.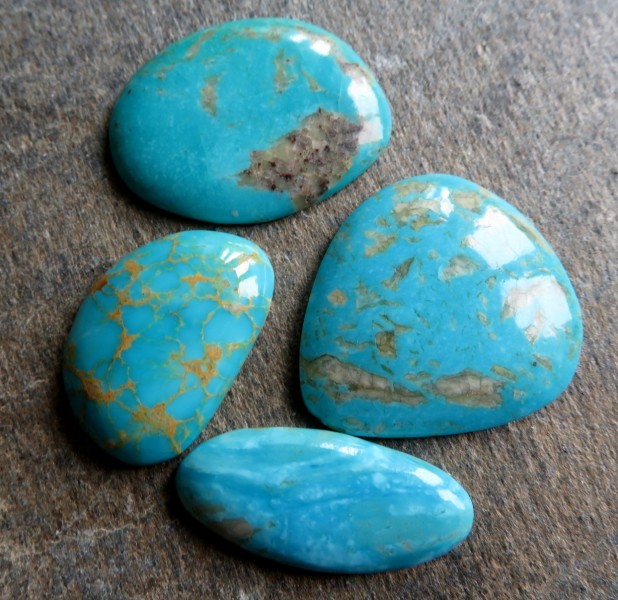 US turquoise has been stabilized with resin for some time. It was probably a necessary step, because today most of the genuine turquoise in the US is now more porous and sometimes worse. The stones are glued under pressure with resin. Abroad, the name (S) - stabilized should appear in the title. It is not compulsory in the Czech Republic, and because the abbreviations of this type are not known to the wider public, we state the stabilization directly in the description of the stone. Stabilization also prevents the change of the color of the right turquoise, so it is sometimes preferred by traders and jewelers. The stone is much more durable. In addition, stones of inferior quality are still stained and then glued, the (D / S) dyeing / stabilized symbol is used for them. As the cheapest and turquoise slightly kissed are sold so-called reconstructed turquoise under the brand (ASBL) Assembled. It takes a little miserable colored turquoise to tint, then mixes with the epoxy, forming blue lumps and these are stuck together together with a black rock imitating resin. Such turquoise is also called 70% turquoise. and they are very credible (they are usually Chinese) They may look like a mottled brawn. (usually Indian version)
Turquoise from China
We cut it ourselves, from a larger piece of rock, but you can also meet it in a different form, for example in ropes or pebbles. It belongs to the cheaper natural turquoise. It has different qualities, sometimes it is green. it is indistinguishable from 70% turquoise .... it doesn't color, and it doesn't break down in acetone.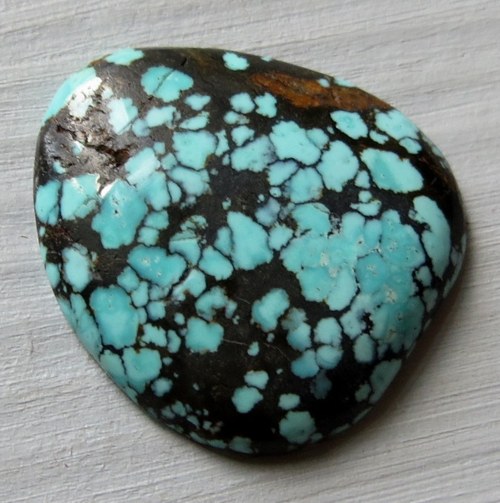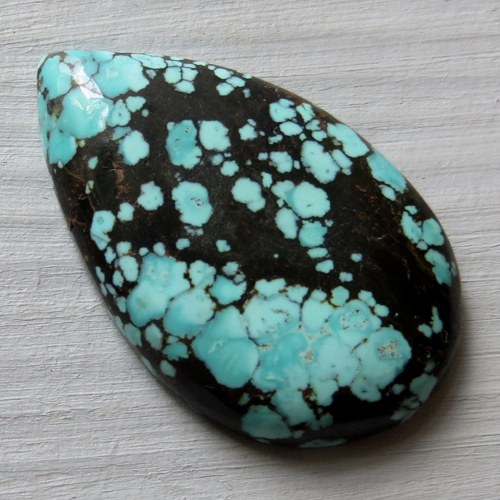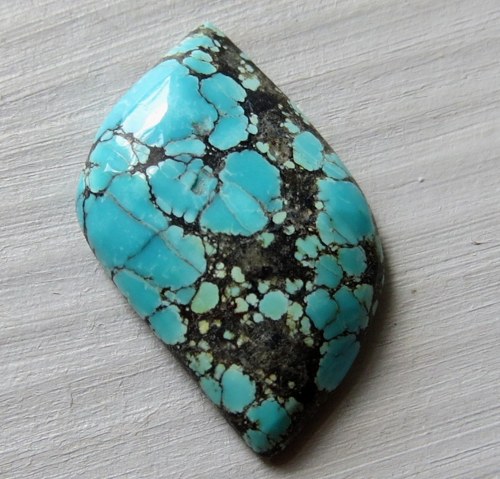 genuine turquoise "> On this link is our current offer of genuine American and Kazakhstan turquoise.
If you are wondering why some people are looking for beautiful natural turquoise and you do not like the turquoise in any way, although you like other blue stones, maybe you will change your mind when you really meet it, you probably have seen only turquoise artificial inserts and feel like did not speak. No wonder. We have the same experience. Until we have been working with natural turquoise, we have fallen to its magic as millions of people on this planet.